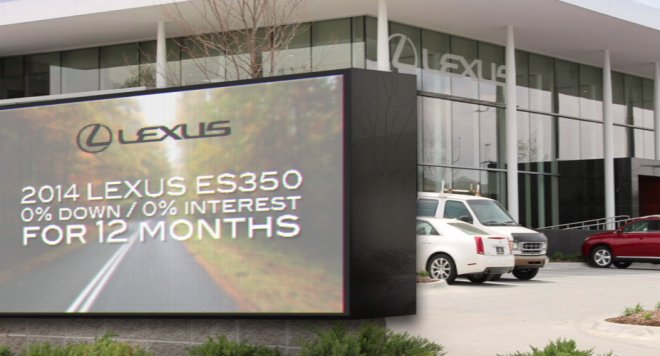 INDUSTRY-LEADING
This immaculate, high-resolution A Series Elite Display will dramatically bring your videos, commercial advertisements and other important information to life. Designed specifically to display moving content, this sign showcases all animations and graphics in the highest clarity and readability. Great for dense pedestrian and vehicle traffic, this display will create the excitement and impact that your establishment is looking for from an LED display.
Being one of the industry's clearest outdoor full-color LED display to read from a distance, the A Series Classic is sure to maximize your sign's impact and drive attention to your business. This sign is ideal for displaying static, bold, attention grabbing messages, information and images.
SUPERIOR QUALITY AND RELIABILITY = PEACE OF MIND

Tested in extreme temperatures to ensure all displays can operate within -22°F to 122°F / -30°C to 50°C

High Accelerated Life Approved for over 10 years of life.

IP65 Rated LED Enclosure - ultra-thin, scratch- & crack-resistant, industrial-grade enclosure that adds significant safety and security to the life of your sign.

All A Series have successfully passed the following tests: Thermal, Cold Start, Signal Integrity, Salt Fog ASTM B117, Impact & Flame, Rain, Immunity & Surge Protection.

100% Fully Front Serviceable

Industry Leading 5 Year Warranty with 2 Year On-site Labor Warranty.
FREE PREMIUM GRAPHIC DESIGN
The A Series Classic is your advertising gateway to every vehicle and pedestrian that passes by your establishment 24 hours a day, 7 days a week, 365 days a year. Having the right combination of visually-persuasive media is vital.
With the purchase of every A Series display, you'll receive custom, high-impact media and an intuitive sign-messaging tool called Ooh! Media.
Prior to receiving the A Series sign, our team of professional designers will speak with you to identify your messaging needs. Based on your guidelines, our team of specialists will design and provide a series of dynamic, custom messages for your sign that are tailored to your company's specific needs.
All media will be specifically designed to captivate your audience, create instant excitement and make a long-lasting impression. You will have the ability to easily change the overlaid text messages of each piece of content to reflect your current specials and other information
LED Signs

PDR0216-4: 2 Lines by 16 Characters

4" Text, 15.5" x 63" (H x W)

Window hanging

Window Hanging

Window Hanging

PDA0416-4: 4 Lines by 16 Characters

4" Text, 28" x 63" (H x W)

PDR0116-6: 1 Line by 16 Characters

6" Text, 11" x 87" (H x W)

PDA0212-6: 2 Lines by 12 Characters

6" Text, 19.25" x 67" (H x W)

Gas Station Price Changer

In-Door LED Signs

PDC0324: 3 lines by 24 characters (~4 feet)

PDC0324: 3 lines by 24 characters (~4 feet)

PDC0824: 8 lines by 24 characters (~3 feet)

PRODUCTS: INFOVIEW INDOOR SERIES' SPECIFICATIONS

Pixel Size: 3mm on 4.57mm Pitch

Pixel Color: Red and Tri-Color

Memory: 496KB, upgradeable to 1MB

Input: PC, TCP/IP, RF, Phone Modem

COM Port: 1 Serial (DB9 Connector Input),

Operation: Real Time Clock/Calendar and

Flash memory for permanent backup.

Character Size: 1.2" or 2.1" (inches)