It wasn't so long ago that chalkboards were the only type of menu boards found in restaurants. They were easy to maintain, easy to change and they were relatively inexpensive. They were also very bland and synonymous. Some large chains have experimented with digital signage as an accompaniment to their traditional static menu boards. These displays allow them to serve up eye-catching animations and designs that remind customers to "make it a large."
People are eating out now more than ever, and smart restaurateurs are using digital technology to engage customers on a deeper level. As the idea of quick and inexpensive meals gained national appeal, more quick-serve restaurants came on the scene. The result was a battle for attention in the fast food sector. Customers have more choices than ever, all of them competing for attention. Digital menu boards allow operators to use dynamic messaging to convey brand information, advertise specials and deliver highly targeted promotions.
Traditional Menu board at fast food restaurants can be replaced with Digital Signage LCD displays allows the restaurant owners to manage pricing and menu items instantly or corporate owned fast food places can change the menus and promotions remotely. The computerized menu board system can mange other in-store electronic billboards and outdoor drive through menu boards. This set-up is a fully integrated digital dynamic signage solution for advertising and in-house promotions.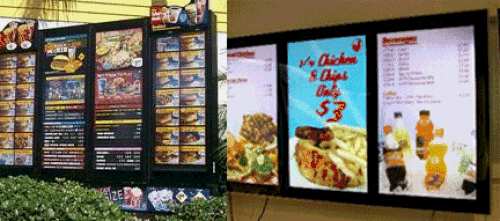 For the fast food industry, digital signage used as menu boards pose the biggest opportunity to incorporate digital signage into restaurants. The benefits of having digital menu boards are they solve the problems standard backlit boards faced with space and item changes. Digital menu boards essentially have an infinite amount of space because the presentation can change multiple times while the customer is making his/her food selections.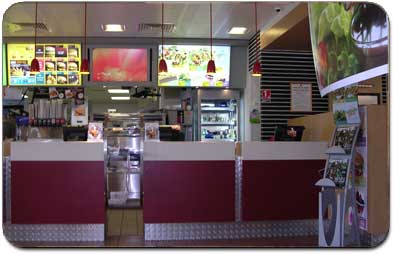 The benefits of having digital menu boards solve the problems of standard backlit menu boards faced with space and item changes. Digital menu boards essentially have an infinite amount of space because the presentation can change multiple times while the customer is making his/her food selections.
Advantage of Digital Menu System:
Powerful marketing to walk-in customers
Improve corporate identity and presentation
Always display high quality graphics and animations
Save money on backlit print media, posters and installation
Faster response to the changing market
Automate menu changes from breakfast, lunch and dinner
Centralized or local level content management
Digital Signage is a proven method of increased sales
Over 75 % of purchasing decisions are made in store
Ease waiting time with changing menu items



Ultra thin bezel LCD menu screens
Benefits for the consumer:
Increased understanding of the items offered by the restaurant
Improved order efficiency to reduce the burdens that long lines place on the consumer
An enhancement or introduction of entertainment in the dining experience
Improved communications between client and service provider, leading to greater customer satisfaction
Benefits for the restaurant:
As customers improve their understanding and the client/service provider relationship improves as a result of better communication, the business is more likely to experience an increase in the number of return customers
Reduction in the number of staff required and a significant decrease in the associated costs (such as staff training)
Higher sales resulting from the improved order efficiency
A positive perception of the actual dining environment
Digital poster board
technology reduces the cost associated with the production and distribution of static posters and it displays High Definition stunning graphics to attract the attention of the customers. We've seen a million static posters were ever we go, If you do walk into a restaurant and you see butter being dripped onto popcorn, it definitely has a strong visual impact, motion graphics definitely attract the attention.
High Bright LCD screen for day light visibility
We offer High bright, LCD menu boards for window advertising. No need for printed posters and installations we can instantly display your promotions and offerings with a click of a button. 1500 Nits LCD screens can take direct sun light and display information visible during the sunny day. Please contact for more information.
The in-store environment is a proven selling environment - getting your messages to customers at the point where purchase decisions are being made. As we all know, the benefits of going digital with your in-store signage are clear. Your consumers receive dynamic and stunning previews of your offering, which can only have a positive impact on their purchase decision, and ultimately boost your sales and revenue.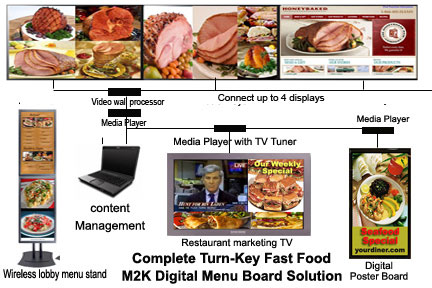 Restaurant Network
Digital Menu Poster system: Print posters are at a distinct disadvantage when compared with the new LCD technology. They don't emit light, so they can be difficult to see in the evening. Their colors are lifeless. They are static, so there is no motion and, worst of all, they can become irrelevant at a moment's notice.

LCD Menu Stand

Display daily specials

Banquet or wedding reception announcements
Wireless access for remote updates and changes
No need for printed posters or flyers
Slide show of your daily menu specials
Static display of current serving menu
Unlimited in-house marketing possibilities
This technology saves time, money and labor.
This can be standalone or part or your digital menu board system

Our menu stand is portable with wireless technology and the contents can be managed from the same digital signage server.

Restaurant TV: M2K digital signage can also provide a new revenue stream for your lobby TV. You can make money by selling advertising space right in your dining area! With M2K digital signage you can feature new products from selected vendors, highlight specials or high margin products. For less than the cost of a single newspaper ad you can have a full month of advertising right where you need it at your counter ...





High Bright LCD screen for window advertisement




We offer High bright, LCD poster boards for

window advertising

. Communicate with your customers wherever they are, even if they're outdoors. With an extremely high brightness level of 1500 nits and static contrast ratio of 3500:1, your messages will be impactful even in bright outdoor environments. Please

contact

for more information about our 46" LCD package for window advertisement.

A new era is upon us – the move from paper-based point-of-purchase promotions to digital signage promotions in retail and QSR markets. This will also have an impact on our environment by reducing the use of paper based promotional products.
Every Digital menu boards are custom to the restaurant industry. Media 2000 System can design your stand alone or networked digital menu board system unique to your operation. Please
contact
us for more information.
Why Media 2000 Systems:
No monthly or maintenance cost. You own the hardware and software
No add-on module cost, we provide all the necessary components to run your display
The ability to customize your own templates and designs
Run PowerPoint, flash, movie files, images, in any screen zones
Video-in capability as standard feature (Input composite or S-video from external source)
Multiple RSS feeds (Latest news feeds, custom text files, etc..)
Emergency notification service ( Administrator can send emergency alert to each screen)
Customize music (s) for each play-list
Excellent Sunlight Readable Outdoor LCD

Environmentally sealed with Thermal Control
Unique Front Access Design
Available in 46", 57",70" and 82" Sizes
Display HD videos and graphics files
4 - 6 Wireless Headset and Speaker stand