Digital signage poster technology is slowly making its way into theater chains nationwide and in more ways than one. LCDs and plasma screens are popping up in all kinds of unexpected places: over concession stands, in box offices, Fast food chains, hanging from lobby ceilings and along walls where those faded posters used to be.
Print posters are at a distinct disadvantage when compared with the new technology. They don't emit light, so they can be difficult to see in the evening. Their colors are lifeless. They're static, so there's no motion, and worst of all, they can become irrelevant at a moment's notice. Someone having to spend time putting up a new poster on the wall for a new product announcement, it can all be done digitally and be easily updated across multiple locations at the touch of a button. Best of all, the digital posters dramatically reduces the cost associated with the manufacture and distribution of static posters. Obviously, there are up-front costs. But once you're tied in, there's no more printing of large-format graphics.
This will be a perfect solution for
movie theaters
,
Arenas and Stadiums
. Dealing with the traditional poster boxes on a weekly or monthly basis requires lots of man hours and unpredictable delays. Our technology helps to update multiple displays with the touch of a button instantly means saving money and time. With the help of this technology,
advertisement
industry can step into the next generation of marketing and promotions.
In-store LCD Poster Board system: M2K Digital Signage system can display High quality changeable images and animations with a barcode price reader. The screen normally displays store promotions, sale of the day, new arrivals etc. When the customer scan the barcode, the screen will display product information, images and video presentation associated with the product range from the same vendor and helps the customer to make an informed buying decisions. We also have focused audio systems for the audience right in-front of the display to hear the narrations with the video presentations with less interference to other customers in that area.
The in-store environment is a proven selling environment - getting your messages to customers at the point where purchase decisions are being made. As we all know, the benefits of going digital with your in-store signage are clear. Your consumers receive dynamic and stunning previews of your offering, which can only have a positive impact on their purchase decision, and ultimately boost your sales and revenue.
Digital poster board technology reduces the cost associated with the production and distribution of static posters and it displays High Definition stunning graphics to attract the attention of the customers. We've seen a million static posters were ever we go, If you do walk into a movie theater and you see butter being dripped onto popcorn, it definitely has a strong visual impact, motion graphics definitely attract the attention.
Benefits
Effective marketing to walk-in customers
Save money on poster printing, distribution and installation
Faster response to the changing market
Centralized or local content management
Digital Signage is a proven method of increased sales
Over 75 % of purchasing decisions are made in store
Digital poster usage

Fast-food restaurant chain's lobby displays
Museum and art galleries
Country clubs and Banquets Halls
Retail stores, shopping malls and department stores
Reception desk video walls
Government agency locations
Health care facilities
Visitor's center and more...
We offer hardwood LCD wall enclosures for your lobby and still keep the same traditional look of your photo frame if necessary. Hiding the bezel and display control button away from the front panel is important especially if the display is in the reachable distance. Please click the image to see more samples.



Every business needs digital posters to promote their product and services. Our technology solution can improve your overall profit margin from 20 - 30%
Networked Large format Poster board solution (Video wall)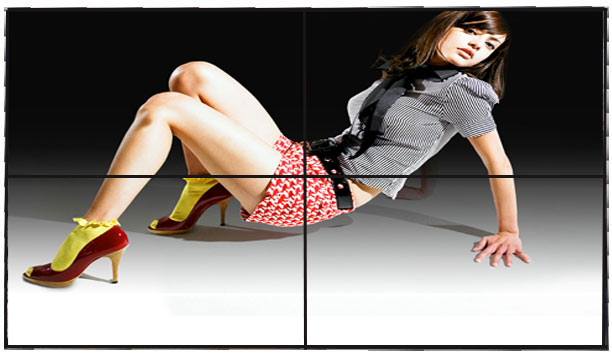 The M2K video wall controller tiles the video image onto an array of much smaller and much affordable LCD panels, providing a cost-effective alternative to high-priced large-screen video wall applications. By choosing a cost-effective Dual-link DVI graphic card and connecting with a Media Player via just 1 Dual-Link DVI cable, M2K video wall processor box brings high-resolution multi-screen images easily and quickly, perfect for retail in-store 2x2 video wall to advertise your store promotions nationwide from your corporate office.
Window Digital Poster (Rear Projection)




With the help of digital window poster system, customers can see the promotions and offerings from outside the store and you can run the whole store catalogue on the window with special pricing. Adding motion graphics on the windows can capture the attention of the shoppers and sell much faster. We offer sizes up to 108" with high luminance rear projector and manage the contents form one central location with our digital signage network.

We can also connect multiple rear projectors and display multimedia graphics across three or four windows.
Portable
KIOSK
advertisement displays
Portable Digital advertisement displays are very common in major shopping malls around the country. These displays comes with integrated Wi-Fi media players and can be placed anywhere in the mall or any other mall location. It's easy to move around depends upon the location and audience. We offer complete turnkey solution for your unique operation. We can offer single screen and multiple screen KIOSK solution to match your specific needs. Other features such as: Touch screens, double sided, audio, Blue tooth interactive options are available upon request.
| | | |
| --- | --- | --- |
| Model: DSK005 | Model: DSK007 | Model DSK009 |
| | | |
Our Wi-Fi solution allows the portable displays to be anywhere in the DHCP wireless network and download the content in real-time. These displays are good for digital poster board solution for department stores to promote the designer brands and other in-store promotions.